My mother was searching the Internet and found a couple of articles that she thought would interest me.

Boy, did they bring back memories!!

Back in 8th and 9th grade (age 13-15) I lived in Bahrain (an island off the coast of Saudi Arabia). I really enjoyed living there and was devastated when we came back to the States.

I played a lot of sports when I was there – softball, volleyball, basketball – and was involved in other activities. One of those was the Cherry Tree Trot. It was put on by the American Women's Auxillary and consisted of running/walking (or in a friend's case - skating) a designated course (can't remember the distance now!! Age has its downfalls!!). I chose to push someone in their wheelchair the whole way. That was hard! But I did it and I also raised the most money and won a trip to the Phillipines!! (wasn't able to go – we moved instead)

Here is a link to article one and article two about the event as it is today, along with a picture. That is me in the purple sweats and pig tails! The man next to me in blue and white is the gentleman I pushed virtually (he helped a couple times) the entire way.


Another event I participated in was the Muharraq raft race (
link 1
and
link 2
). I had a blast!! It consisted of paddling 8 oil barrels welded together with metal rods out into the ocean, around a buoy and then back to shore!!
Not sure the company we represented, but there were two teams that I remember practicing with – one girls, one boys. And the boys team consisted of some of the guys from the high school and some of the guys from the Navy base, which I was pretty happy about because I had a major crush on one of the Navy guys!! (Very much to my mother and step-dad's chagrin!)
Here is a picture of me after one of the heats. I look pretty tired.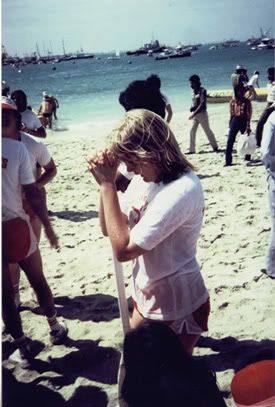 Thanks for taking this trip down memory lane with me!!