The time was 4:15 am on Saturday morning and it was time to get up. I jumped in the shower (didn't want to smell any worse than I knew I would), dressed, finished packing then headed out to the car with all my stuff. And lo and behold another Team UT training jersey was out there! This was someone I had never met before so we introduced ourselves (her name was Elizabeth) and chatted a bit. She was taking the short route (leaving from Rhodes Stadium) and I was going long (Tully Stadium). We wished each other luck and took off for our respective starting points.

I arrived at Tully and had no problems getting in or finding a parking spot. It was great because I was expecting tons of traffic. As I was taking my bike off the rack Elizabeth came over and said I had talked her into doing the long route. Funny! SHE talked herself into it, not me!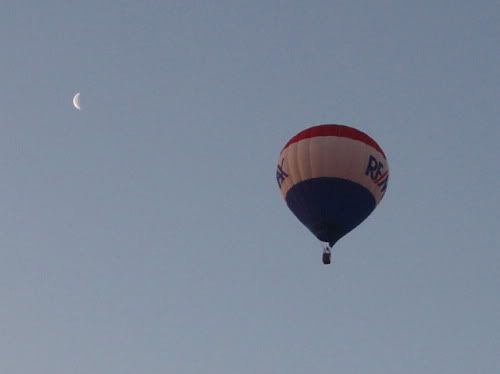 One of the air balloons at the start.

Anyway, I finished getting ready and made it to the start line where I met up with Elizabeth and we waited for the start. Eventually our time came and we crossed the starting line at 7:20 am. The adventure begins!!



The starting line.

The weather at the start was overcast and 66 degrees. And over the course of the day the sun came out, the clouds went away and the temperature rose to 88 (that is what weather.com says, anyway!).

RS#1 looms ahead and gets passed. I am feeling great. But then I have to pee! A Walgreens is at one of the corners we turn at so I make a pit stop. Then it is back on the road.

We are doing great. RS#2 appears and we pull over to replenish the water bottles and get some snacks. Then back on the bike and into the throng of riders (the Houston Chronicle said about 7,000 riders started from Tully).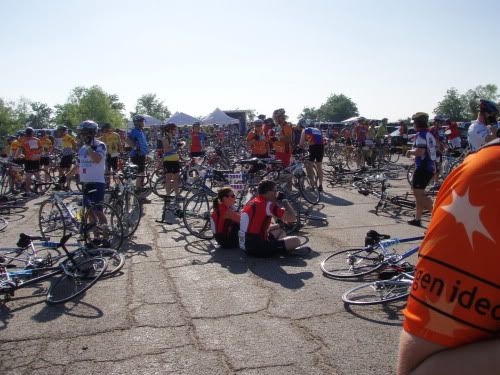 Rest Stop #2

Then RS#3 appears and is passed. We are pedaling right along. The wind has been out our backs virtually the whole way. And will be at our backs pretty much the whole way to Austin! This is awesome. Next stop Bellville and lunch!

Up to this point it has been flat, but at around mile 42 we encounter our first hills. I lose Elizabeth, but wait for her at the lunch stop. A sandwich, some boiled potatoes and 2 small ice cream bars later it is back on the road!

I lose Elizabeth just outside of Bellville at the first hill and will not ride with her again. I am now solo, but not really. How can you be solo with 12,000 + riders on the road with you?!!

The sun had made its appearance by now and the temperature is rising. And I am thinking maybe I shouldn't have had the ice cream. I am starting to feel a little nauseous and at one point really want to throw up. But it passes. I drink my water and Gatorade, stop passing the rest stops and actually stop. The heat is intense. My temperature gauge was reading 90 degrees in the shade, but out in the sun while riding on that black top it reached 106. I know this is not accurate, but when the sun's rays are beating down on you from above and the heat is radiating up from the pavement – you feel HOT!

I passed two riders pulled off the side of the road, riding tandem. The man was helping the women up so she could get on the bus. And that is when I realized she had MS. What a brave women! I am sure the heat was really aggravating her disease. I saw her partner several more times along the route, riding solo on his specially designed tandem. I sure hope he was able to pick her up just before the finish line so they could cross together.

By mile 80 I was more than tired. I could not wait to get to La Grange. I was so incredibly thankful to the volunteers I wanted to cry! But I kept getting back on the bike and pedaling.

Around mile 95 my chain came off halfway up a hill. After putting it back on I seriously consider walking up it. But no, I am not walking up this measly hill!! So I get back on and ride it to the top. The rest of the way is smooth sailing and I finally make it to La Grange and to the team tent. It is 4:20 pm. It took me 9 hours to travel the 99 miles to get there. And of those 9 hours – 6.5 of them were spent on my bike. I sure did take some long breaks!!



The view from the back of the team tent.