Once at the team tent – I laid down for a bit, had some dinner and then headed off for the showers. After getting cleaned up, I went back to the tent, prepared my cot and enjoyed the rest of the evening. I admired the beautiful sunset, wandered around the fair grounds, etc.

I tried to get in contact with some of the people I knew also doing the ride, but was not able. Come to find out one of the individuals I called, Joe, electrolytes were out of whack. He was not feeling very good and was not able to ride on Day 2. That sucks!

Finally it was time for bed. I put in some earplugs and fell asleep.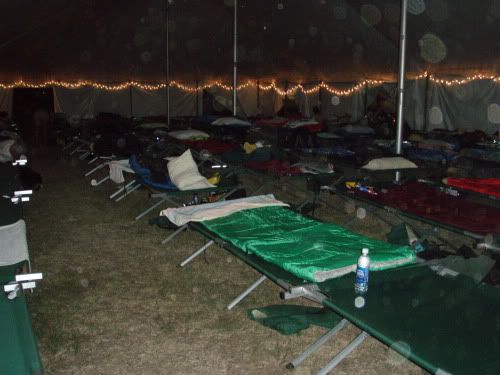 Team UT Tent

Then it was time to wake up and prepare for Day 2. I dressed, cleaned up, had some breakfast, packed, took my luggage to the drop off and then grabbed my bike. Start line here I come!

I ended up in one line way in the back. Then someone said there was another start line for people who were going through the park (the longer, more challenging route) so I headed over there. Stood in line. Found out that this line was an unofficial line, so I went back to the other line!! Good grief!!

Well, I finally crossed the start line!! Yee Haw!!



Riders crossing the Start Line in La Grange

I pedaled along thinking this isn't so bad. Yeah, there are some hills but they aren't any big deal. There was even this GREAT downhill that I got up to 38.7 mph on – and I was using my brakes!! Some guy next to me said he made it passed 43 mph!! Crazy! I am not ready to go over 40 – maybe one of these days.

Then up ahead some people were turning and others were going straight. I was thinking it was RS#2. But no – it is The Park. Beuscher State Park. The park with the infamous hills where people fall over in front of you because they are going so slow.

I pull over. I didn't realize I would have the opportunity to bow out and take the "less challenging" route. I contemplate my ability. I ask a gentleman how bad it is. He says the hills are steep, but relatively short. He encourages me to try it. So I do!! Off I go!

I have been trying to do what Coach Eric told me to when it comes to shifting gears. Get in the big chain ring in the front and find a comfortable gear in the rear. Then when going up the hills try and stay at the same cadence while shifting into easier gears. I had been doing something similar to this before, but just not quite right. Well his technique had been working for me up until that point, but on one of the first hills in the park I started doubting my ability. I had passed someone earlier who fell over going up a hill, and then on the next hill some lady started zig zagging from one side of the hill to the other to try and make it up. I avoided hitting her, but lost momentum so I pulled over and walked the rest of the way up. I was disappointed. But I dealt. I was just hoping I wouldn't have to do it again.

At the top of another hill was a scenic overlook where I stopped and took a couple pictures. I wish the sky had been clear, but you can get the idea of the view.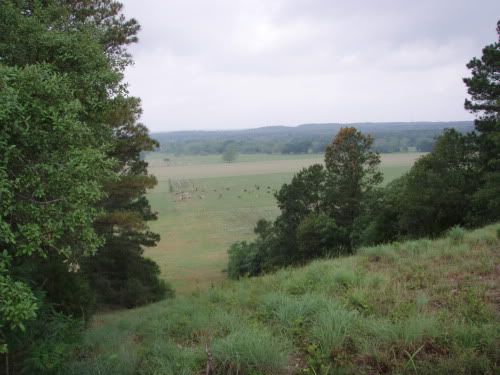 Scenic overlook in the park

After that it was time to tackle more hills. And I made it up them all on my bike. Even the hill that wouldn't end. It went up and up, and then when I thought the top was near I saw another hill, but even worse. I mumbled "I can't make that," and the guy behind me said "Yes, you can." And he was right!! I made it!

After that it was pretty much smooth sailing with only one major glitch. A rider had an accident. Not good. We were told to get off our bikes and move to the side of the road. We walked along for a quarter mile or so until we passed the scene. The rider was laying face down on the pavement and not moving. As soon as I passed, the ambulance showed up, and from what I understand the people behind me had a long wait until the rider was taken to hospital (someone said he was Life Flighted out, but I am not sure). I hope he is okay.

I stopped for lunch and saw a couple friends and even one of my coaches (Coach Alan) who was with his daughter. They were riding tandem and it sounded like they were having a good time.

After lunch I stopped at a couple rest stops but the best break was when I pulled off the side of the road to take some pictures of flowering cacti! Aren't they pretty?!




Eventually Austin was in sight. But then the cops kept stopping us at the major intersections. So we would get all bunched up then have to try and tackle a hill with limited space to pass the slower riders. Frustrating! And the most frustrating part – when they tried to make us stay in the bike lane!! Yeah – 3 feet of asphalt for 12,000+ riders! STUPID!!!

I made it out of that mess and entered the UT campus. The end was near!

Then I heard the crowd. And as I rounded the last corner I sat up on my bike, raised my arms in victory and applauded with the crowd as I crossed the finish line. I had done it!! I had traveled 175 miles under my own power!!



A couple kids crossing the finish line



State Capitol - the view as you are riding along the last stretch of the finish line

I dropped off my bike for transport back to Houston, found my luggage, had a shower, attained my rider reward (a certificate and pin), had some dinner then headed for the bus for the ride home.

Overall I felt great. It took my 6.5 hours to reach Austin, and just over 5 of those hours were on the bike. My legs and back were a little sore, but not so bad that I looked funny when I walked! And the best part - my butt and other parts did not hurt one bit!! That new seat worked wonders!!

This weekend is another training ride with TNT. We are scheduled for 75, but I am thinking that might change. Then the next weekend is the Shiner BASH which is 95 miles. Piece of cake!!