Saturday was a great ride. The route was 70 miles, but the coaches told us 10 of those miles were optional. Well, I was already mentally prepared for 70 so I didn't want to wimp out and just do 60!!

We took off a little after 7:30 and headed through Montgomery and made our way through Sam Houston National Forest. Coach Eric, Coach Rich, Juan, Dave and I eventually made it to I-45 where we would either take the feeder up to Huntsville for the extra 10 miles or cross over and do 60. I wanted to do 70, coaches didn't care, Dave said no, Juan caved and said yes. So it was off to Huntsville where I was hoping to get a picture of the Sam Houston statue: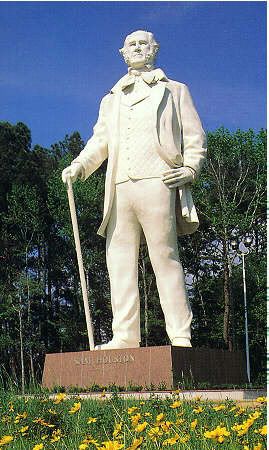 "A statue as big as his legend, a 67-foot replica of the statesman and first President of the Republic of Texas on a 10-foot granite base. Texas-size Sam is the world's tallest statue of an American hero located on I-45 between Dallas and Houston in Huntsville, Texas. David Adickes, sculptor."
We made it to the entrance of Huntsville State Park and if we put in some more bonus miles we might have made it to the statue, but Juan was not going for it so back we went, over to New Waverly, back through the forest then on to Montgomery and a strawberry daiquiri!!
I felt pretty good the whole way and Coach Eric gave me some pointers on how I was attacking the hills. He suggested I change the way I was shifting my gears so I would conserve my energy. I keep going at these rides like I have to get done as fast as possible. But "this is an endurance event, not a race!!" Okay, Coach Eric, I will change my mindset!!
I am still wondering if I will survive this coming weekend, but thousands of others do it every year – so I should be able to do it!!