Yesterday was gorgeous!! But it certainly didn't start that way!

When I looked outside, after waking up, the weather looked fine, just cloudy. I thought the predicted storms might have passed during the night and didn't turn on the news because I was running late.

I finished getting ready and then loaded up the car. As soon as I got out of the garage tiny drops of water started hitting the windshield. Then the drops started getting bigger and, as I was heading west towards Bellville, the clouds were DARK! Then the downpour began. And it didn't stop until 45 minutes to an hour later!!

I kept slowing down due to hydroplaning, but some not so fortunate people didn't. I saw two one-car accidents on my side of the highway and after the rain let up I witnessed a car spin out on an off-ramp.

By the time I reached the parking lot the rain had pretty much stopped, but it was still wet and overcast.

We were riding.

And after the first mile I knew I wasn't that thrilled about being out there. Not sure why, but being on the bike was not my idea of fun. So I made a lot of picture stops!!



Here is a field of yellow wild flowers.



And here is close up of another field of yellow wild flowers.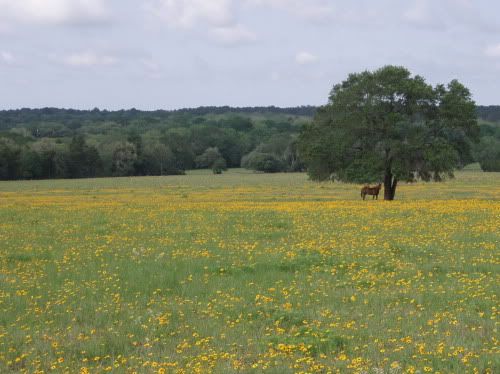 And here is a field of yellow wild flowers with a tree and a horse.



And here is a vulture. I have a feeling his wing was a little out of whack - because he didn't try and fly away.

I finally made it to Fayetteville (the place sure did look familiar - probably because I had just been there last week!!). We all gathered in the town square and had lunch in the gazebo. I should have taken a picture of that, I do not know what I was thinking.

Anyway, one of my mentees, Shawn, tire had blown apart. Not the tube - the tire! So he couldn't ride anymore. Coach Alan tried to fix it, but the hole was just too big. I asked if he was disappointed to not have to finish the 70 miles (thinking he wouldn't be), and he was!! He had trouble with his tires the week before (4 flats!!) and was looking forward to the long ride today. So, being the gracious person that I am, let him use my front wheel to finish up the last 30 miles! Which meant I got to SAG!! Such hardship!!

I was just hoping that nothing happened with my tire. You see, the night before the MS150 as I was cleaning my bike I noticed a small bubble on my tire. It was the tube bulging out of a small hole on the side of my tire!! Freaked me out! It is 9:00 at night, no bike shops are open and the MS150 is the next day. I think about what to do, and finally decide to patch the hole with duct tape! It worked! I had no problems with it (much to my relief). I told my coach and some other people about it - and they said a dollar bill is a good thing to use, too. These are good things to know!

Shawn had no problems with the tire and finished the ride successfully.

Once we arrived back in Bellville, we waited for the final riders and then headed home. The rest of the day (or evening - because I didn't get until just before 6:00) was spent relaxing. Because you KNOW I needed it after that very vigorous ride!!