Saturday was our last group training ride until Tahoe. We did an easy 45 miles up in northwest Houston. There were virtually no hills and the wind wasn't too bad!!

After about mile 30 I kicked up my pace a bit and Wardo and I rode the rest of the way together, leaving the rest of the group in the dust!! Yeah, right – I just wanted to be one of the first ones back to Debi's house so I wouldn't have to wait for a shower!

After everyone finished - the party began. Coach Alan boiled up a couple pots of crawfish with all the fixings (potatoes, corn, mushroom, etc). YUMMY!!! And SPICY!! My mouth and lips were burning after that last ear of corn!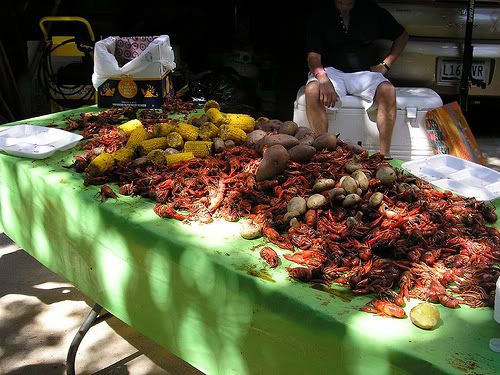 We all pigged out that day! People brought so much stuff it was amazing. There were multiple dips with chips and crackers, then salads, fruit, veggies, rice, fried Twinkies with currant jam (yea, fried Twinkies!!), and then a multitude of deserts! And that was all washed down with beer or your beverage of choice!
After the gorge fest, we sat around talking, drinking and playing in the pool. It was a great day!
Coach Rich even brought his bike stand and cleaned bikes for those who wanted it. And I did! Not that my bike was that dirty, but I wanted to learn how to do a better job. Time to go to the store and buy some cleaning tools. Rich even "trued" one of my wheels. That will be helpful in Tahoe! No more brake rubbing against the rim.
Sunday was uneventful. I was recovering from the day before. Or that was my excuse, anyway!! We are in injury prevention mode for Tahoe. Do not want to hurt myself!
MD Anderson sets up an employee softball league every year, so I signed up for a team. Last Monday was our first game and we won! The other team forfeited! Last night was our second game, and we won that one, too! And this time the other team showed up. I played left center and didn't too badly. I am not the greatest player compared to some, but I have fun. That is the point.
After that game, another team needed some players so I played with them. This time I played first base. I am not used to that position, but I did okay. I caught the ball and was able to get a couple people out and my hitting was okay. I just wish I could learn to hit the ball in different places - I kept hitting to short stop.
The only problem with playing softball - it is kind of hard to play in injury prevention mode! As I was going for a ball I slipped in the dirt and twisted my foot/ankle. I am such a klutz. After the game I had a couple errands to run, but when I got home I pulled out a bag of "Grade A Fancy Baby Lima Beans" from the freezer and put it on my foot after taking 3 Advil. It feels a little better today, but is still sore. It didn't hurt when I rode my bike this morning; it is when I walk that I feel it. At least there are no games next week!
Tonight I am going to buy the new Dixie Chicks cd. Can't wait to blare it in my car stereo with the windows down!! Maybe I shouldn't. I live in Texas and am in injury prevention mode!!