The morning of the ride started early. We were in the 6:00 am wave and needed to be in front of the hotel for pictures at 5:30. I got out of bed around 4:45, got ready, and headed out the door at 5:15. Of course everyone else was heading for the start so the elevators were full! Down the stairs I go but I could not get into the hotel!! All the doors were locked! Even some from the inside! FIRE HAZARD! Eventually I was able to make my way out the back behind the pool, then rode my bike to the front to meet up with the rest of the group. Pictures were taken, last minute preparations were done and finally we headed for the start line.

The ride begins!!

I had thought of wearing tights and gloves, but opted not. Sometimes I wish I had worn them, because it was a tad cool. But it warmed up quickly and all was good.

The first major hill to tackle was up Emerald Bay. I went part way up and pulled over to take pictures of the riders behind me. I was thinking "this isn't that hard, what is the big deal?" Well, the big deal was that I hadn't reached the switchbacks!! Then I did, and then it was "Oh God, Help me get up this mountain!!"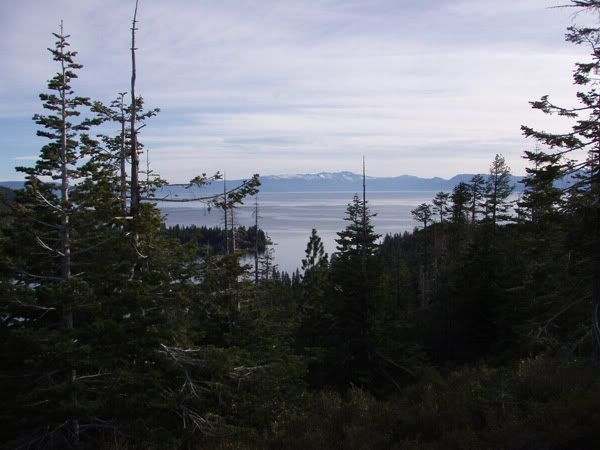 On the way to Emerald Bay

Here is one pointer if you decide to ride up a mountain with switchbacks – DO NOT TAKE THE SHORT ROUTE!! It is a not really that much shorter and is a heck of a lot steeper!! What do I mean by the "short route" you ask? I mean the closer you are to the edge of the mountain the less steep the climb, versus the closer you are to the mountain, the steeper the climb. Trust me!

Well, after a few stops for pictures I finally made it to the top, and then the down hill began!! WOO HOO!! 43.5 mph! And this is while pumping the brakes!

I had been warned (several times) not to constantly apply the brakes while going down hill. The reason became apparent to me when I heard a loud pop. It wasn't my tire (thank goodness), but some guy in front of me. He was applying his brakes too much, which resulted in the brake pads heating up the bike rim. This then heated the air up in his tube causing it to expand and eventually burst. At least he didn't crash and was able to make it over the side of the road.

But other riders were not as fortunate. From what I understand there were 3 major accidents with several other minor ones.

After the second rest stop my riding partners (Andrea and Laura) and I start up another hill, but had to stop due to an accident.

We are then allowed to start up again, and pass the scene. Not pretty. Lots of blood on the ground that some of the riders were trying to wash away with water.

After going for a little ways, we have to stop again. At first we were thinking it was another accident, but actually it was the same accident. After stabilizing the victim, the emergency personnel had moved her further up the road so that Life Flight could land.



The back up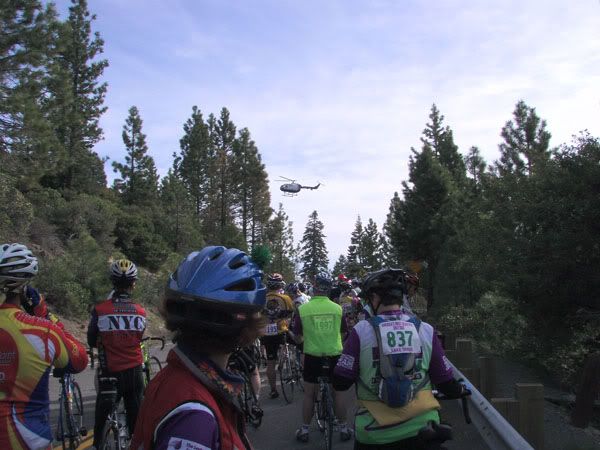 Life Flight getting ready to land

After Life Flight left we were back on our way.

The accident freaked me out some and I was nervous about crashing myself and causing myself serious injury. Just had to keep saying to myself that all was going to be okay. And eventually I started enjoying the ride again.

The scenery was great and the weather was perfect. It was going to be a glorious day! The miles passed. We made numerous stops for pictures and replenished our water bottles at every rest stop. And those rest stops were stocked! This is the first time I had encountered honey dew and cantaloupe melons on a ride. And let me tell you – they were yummy! A couple of the stops had boiled new potatoes with salt. Another yummy treat! When I am on rides I try to avoid gels and sugary drinks and take my nourishment in through fruit, pretzels and cookies. So all these extra treats were great! The only thing I wish was that they had more salty treats. At one rest stop I put some salt on an orange slice to help with my electrolyte replacement.

Another fun thing on the course was the PB&J sandwich handoff point. I didn't really need a sandwich, but I wanted the experience. So I slow the bike down a bit, move over to the right and say yes when they ask if I want one. Out comes their hand, out comes my hand and we attempt the handoff. Attempt one ended in failure – PB&J on the ground. Attempt two was a success – PB&J in my hand and not squished!!



Andrea and a tired Laura on our way to Truckee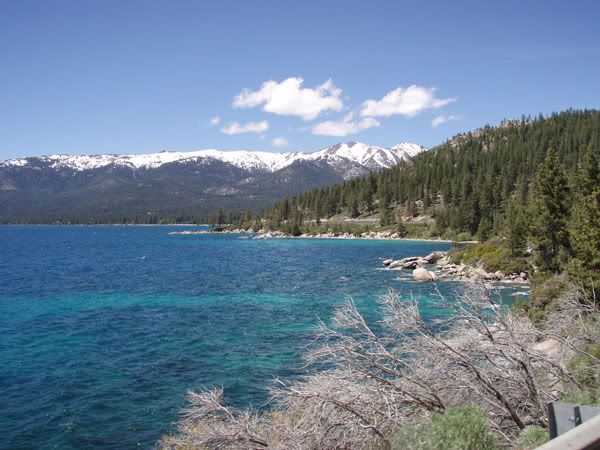 A view of the lake as we are getting closer to the lunch stop

We eventually made it to the lunch stop and met up with a couple other participants from our group.


Cancer Survivor and TNT Mentor – Patrick. "I have conquered!!"

As we were heading back to get our bikes after lunch, Andrea felt something poking her in the butt. It was a splinter from the picnic table we had just gotten up from, and Laura (being the wonderful friend she is) helped remove the offending piece of wood from Andrea's shorts! The picture opportunity was too tempting to pass up. Just one problem, I had a bunch of pretzels in one hand and I needed both to take the picture. I shoved the pretzels in my mouth, quickly got my camera out of its case and was able to snap this picture, much to Andrea's chagrin!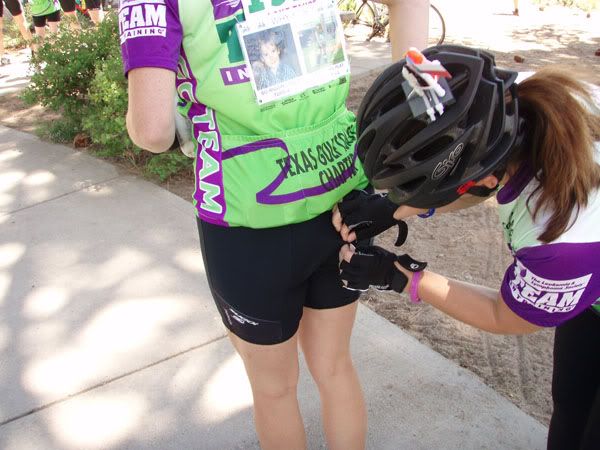 Laura removing a splinter from Andrea's butt



America's Most Beautiful Bike Ride, Lake Tahoe 2006

After lunch the next major hurdle was Spooner – an 8 mile long climb with a few down hills thrown in for a nice break.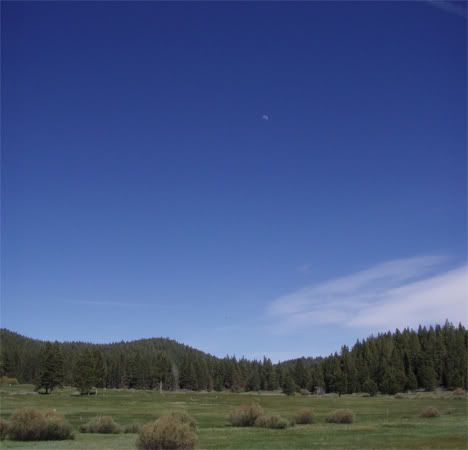 Getting close to the top of Spooner – final elevation 7044 feet

After Spooner was a very well deserved down hill!! I was able to get up to 33 mph on this part of the ride. And the only reason I wasn't able to go faster was because of the monster head wind. If there was no head wind I could have easily gotten up to 50 mph (not that I would have wanted to!!)



Andrea taking a break

After Spooner – next stop Zypher Cove. This is where our whole group was regrouping so we could ride the final 4 miles to the finish line together.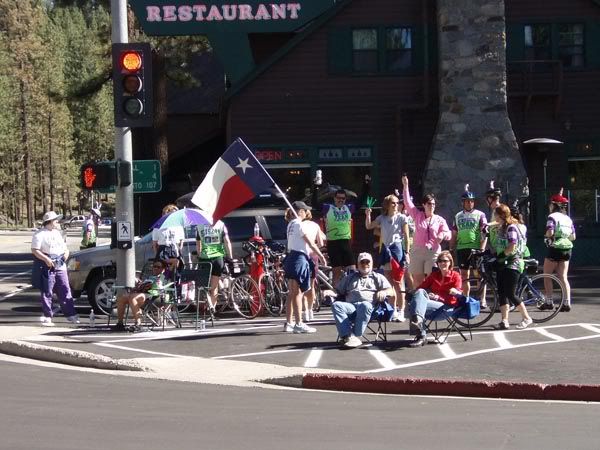 Zypher Cove – 4 miles to go!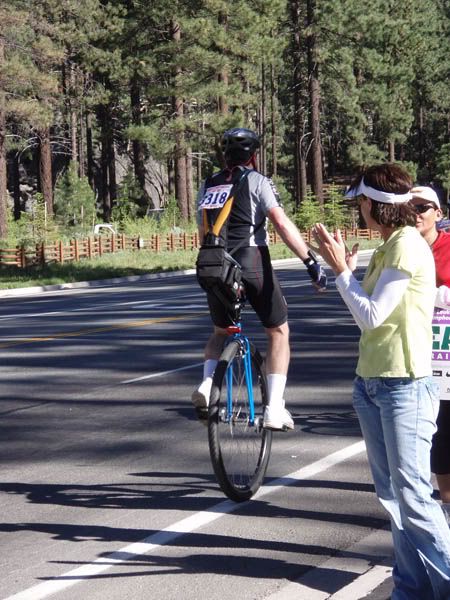 And I thought it was hard riding up those hills on a bicycle. Can you imagine doing them on a unicycle?!

Finally, everyone made it to Zypher Cove, and then it was off. Finish Line here we come!

About a half mile from the end we regroup again and we hand out the final prop for crossing the finish line – Texas flags. We were going to hold them, but someone put theirs in their helmet and eventually we all followed suit!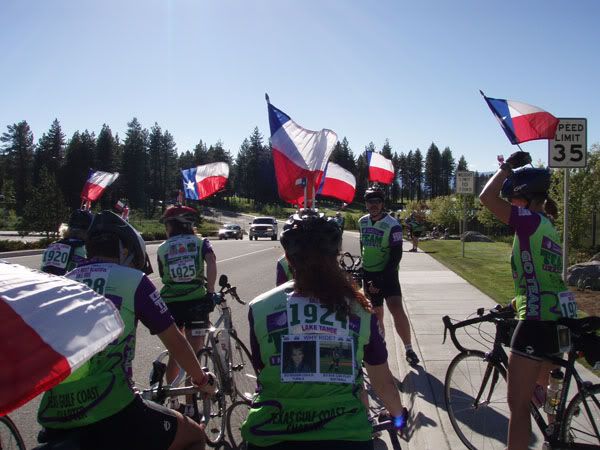 Getting ready to cross the finish line

And then we were done!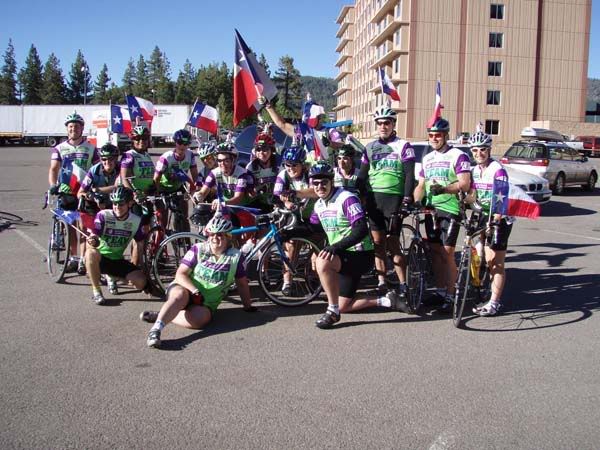 Finis!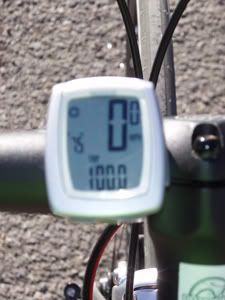 100 miles!

And this is one of the things that helped get me across that line: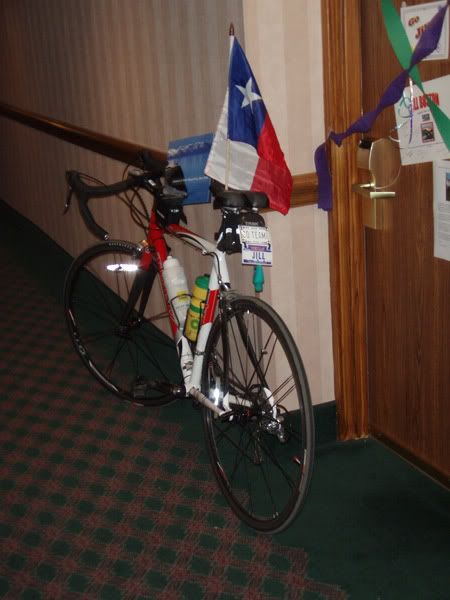 The Ride!

This event was absolutely wonderful! It was my most challenging ride to date and I loved every minute of it (even those hills!). I can't wait to do it again!




p.s. here is a link to the elevation chart for the ride, just in case you are interested.