Last Friday started bright and early. I finished getting everything ready, loaded the car and off I went. Dropped Beazer off at Noni's then hurried over to the airport where I eventually met up with everyone else and boarded the plane.

The fun begins!!

Everything was calm, then the drink cart came by!! And even though it was 10:00 in the morning - the alcohol started flowing!! Heck, some of the participants had started way before that! So, a couple vodka tonics and vodka cranberries later we land in Sacramento.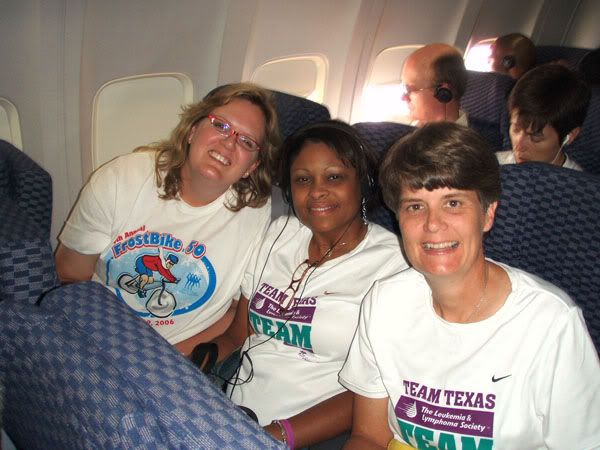 Let's Party!!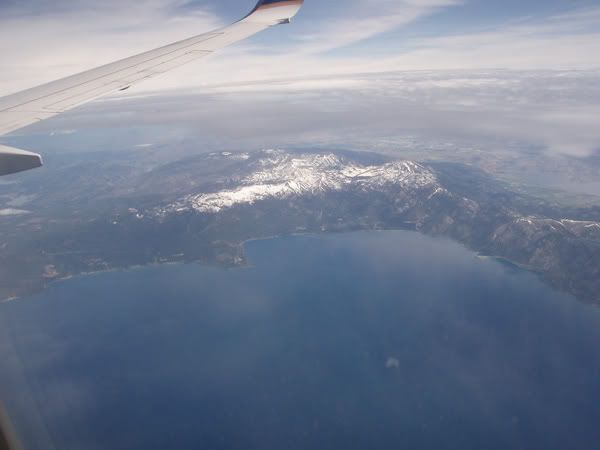 Lake Tahoe from the plane.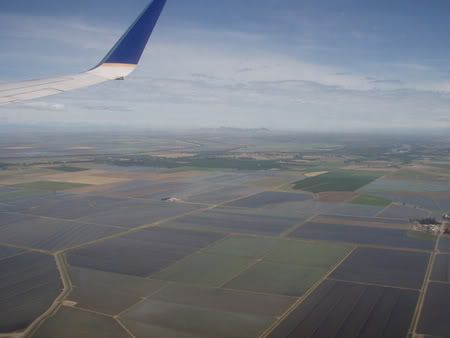 The view as we get closer to Sacramento.

After landing and picking up our luggage we made our way to the shuttle. I am expecting a small bus or a couple vans that will haul us up to Tahoe. But no, we get this -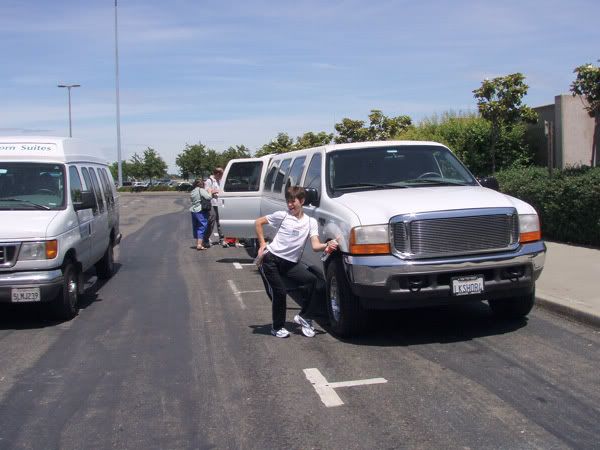 Liz posing in front of the limo.

A stretch Excursion limo!! Sweet!

We finally make it to the hotel, check in and go pick up our bikes. It is then time to explore and get some food.

I met up with a group of friends and we headed into Tahoe. First stop - the souvenir shop where I purchased a "Biked It Liked It Tahoe 2006" t-shirt, sweatshirt and socks. I contemplated a picture frame but decided I had enough. Next stop was supposed to be dinner, but I decided to join another group of friends for a couple brewskies prior to dinner! I just didn't have enough alcohol on the plane!

After a lot of laughing and socializing we made it to an Italian restaurant for some dinner. After that it was off to the grocery store for breakfast items and beverages (i.e. more beer!). Yeah - I hang out with a bunch of lushes!

Finally, we get back to the hotel where I meet up with the other mentors to do some door decorating. Not all of it, but we wanted to give everyone a taste of what was to come.

Then it was time for bed.

The next morning I made it down to the hotel casino where a group of us met for breakfast before we headed out for that morning's short training ride and pictures. The ride and scenery was great. The only problem I had was when I followed Patrick up a hill at 20 mph! Not the wisest decision at that altitude!! Oh well, I recovered. Over half way into the ride we stopped at a golf course and took some team pics and then it was off to Chevy's restaurant for lunch. I had fish tacos and a watermelon margarita. Yummy!

We then made it back to the hotel where a bunch of us met up to go check out the Pearl Izumi and Adidas factory outlet stores. Can you believe it? I ended up not buying a thing!

Back to the hotel to get cleaned up then off to our team meeting before the Pasta Party. And what a team meeting we had. It started with all the instructions we needed for the ride the next day. Then we were given our packets. Then the tears began to flow.

This is when Coach Rich told the story of a friend's son's battle with cancer and his eventual loss. The family of the boy asked Rich to take their son's cross up to Tahoe a couple years ago and place it at the highest point on the ride. So he did. The next year he placed it on a rock next to the lake. This year he decided to take it back with him to Houston to give back to the family, but before this he passed the cross around the room and had each of us tell our story. Some told of their own battles with cancer. Some talked about their family members who had battled or were battling the disease. Some just asked for a moment of silence. It was very emotional and made us all realize how lucky we were to have the opportunity to even get on our bikes and ride in this event.

We then broke the tension by showing them their helmet decorations and handing out gifts.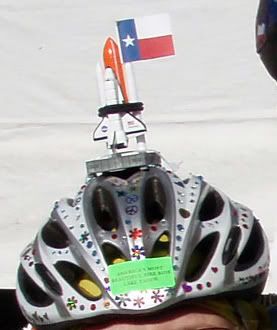 Team Gulf Coast's helmet decoration. "Houston, we DO NOT have a problem."

After that we set off for our Pasta Party at Harrah's. There were so many TNT participants (1900 from what I understand) that they had 4 separate pasta parties!! Crazy! Anyway, it was another fun and emotional time. This is where I was recognized, with 4 other individuals, as being a Triple Crown!! Yee Haw for me! But this is also where we heard the story of how one man was affected when his wife was diagnosed with cancer. The story was heart wrenching and ended sadly, but he is keeping the memory of his wife alive by continuing his involvement with TNT.

After the Pasta Party it was back to the hotel where I met up with the other mentors and our staff members and we set out to do the final door decorations. I think we did a pretty good job.....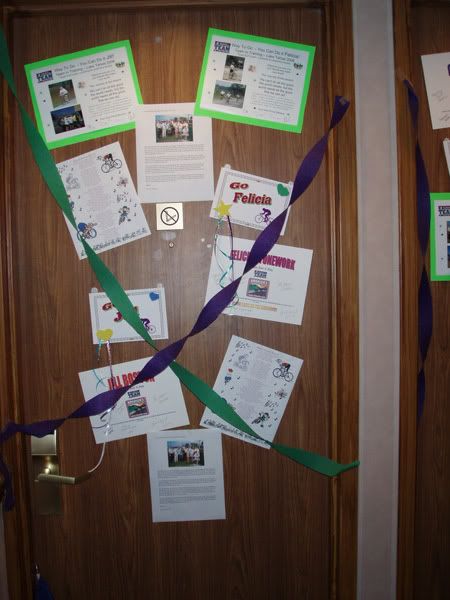 Door Decorations

It was then back to the room to prepare for the ride the next morning!