I had a fun week.

Monday I went out to the 1/4 mile track at Memorial Park and cheered on the participants as they did their ladder. There was some yakking afterwards and then it was time for me to do a loop. Well, I ran into a couple friends and their dogs so it was a slow loop, but it was a good time.

Wednesday was Bid Buy Date (a couple of TNT friends' fundraiser). I had a BLAST!! And a tad too much too drink, but Erin made me start drinking water, so all was good. Except that when the buzz started wearing off my anxiety started to rise because I had bid on THREE MEN!! I was freaking that I might win them all!! But all turned out okay, I was out bid on two of them so I was only obligated to pay for one of the bachelors! The date package is dinner at Sullivan's Steakhouse. We'll see if I end up actually going on the 'date' or if I will just make a donation to a very worthy charity!

Thursday I was off to meet with the ferret friends, and Friday I rested up for the Race for the Cure.

Saturday arrived and I was off to the race. First we met up in front of the Doubletree. And then it was picture time.



Ginny, Anne and Emily (TNT Coaches)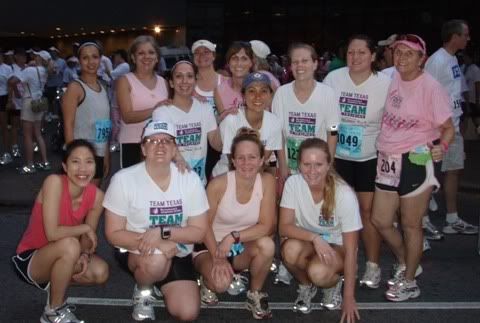 Team Picture

Then the rain came pouring down.



Trying to take cover under a tree

Luckily the rain eventually stopped and we entered the start chute and started our run. I started with some friends and chatted with them a bit, found some TNT participants and ran with them for a bit, and finally I fell in-line with Molly and Katie. This was Molly's first race and I felt running with her was more important than getting a good time.



My running buddies – Molly and Katie



Flags of the honored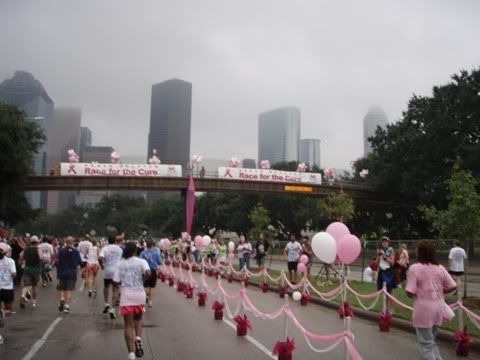 Finish line!!!

After crossing the finish line I waited around for some of the other TNT participants, but I specifically wanted to get a picture of Emily running down the Survivor's Path. Emily had breast cancer around 10 years ago, and survived. And then this past year it returned in her bones. And she survived, again!! I am going to Jacksonville with her for 26.2 with Donna.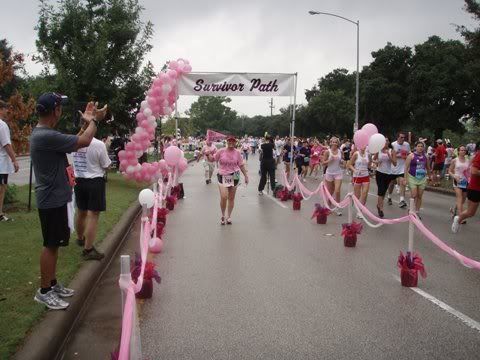 Emily coming down the Survivor's Path

After the race I wandered around the park for a while, met up with several other TNT participants, then it was time for home. Well, that proved to be a little difficult because I couldn't find my car in the parking garage. I asked a parking attendant who then called for a cart (I was that far off!!) to take me to my car. It was THEN time to go home for breakfast and a nap. After that it was off to the Greek Festival with friends where we ate Greek food and drank A LOT of Greek wine!! And Sunday - I rested!