Several years ago I went to New Braunfels and floated the river with my family and have always wanted to go back and do it again. I finally got the chance last weekend.

I went with friends and we camped for two nights along the river at one of the huge campgrounds.

We drove over on Friday afternoon and just hung around the fire that night eating, drinking and playing games. I wasn't that into drinking so I was good and limited my alcohol content. But the people at a campground next to us was very into it and were up until close to three in the morning. I was not that endeared towards them the next morning and made sure we did not get into the water at the same time they did later that day.

After breakfast, we sat and watched a ton of people get in to the water and listened to their high pitched shrills at the shock of the cold! Funny!

We finally got our tubes and jumped in ourselves. The water was a little cold, but I got used to it over time. Overall, it was a good time. It was nice and relaxing, but then things would get a little exciting during the rapids. I liked those times the best, I wish their had been more of them.

I think the major downfall of the whole trip was seeing all the trash floating in the water. There were beer and pop cans, plastic bottles, jello shot containers and a other odds and ends. My friends thought me a little strange because if I could get close to the trash I would pick it up and put it with our trash. When we first started floating I didn't see any, then about of a third of the way a few items appeared. And the further we went the more and more trash appeared. It is too bad and rather sad.

Here are a few pictures of our time floating: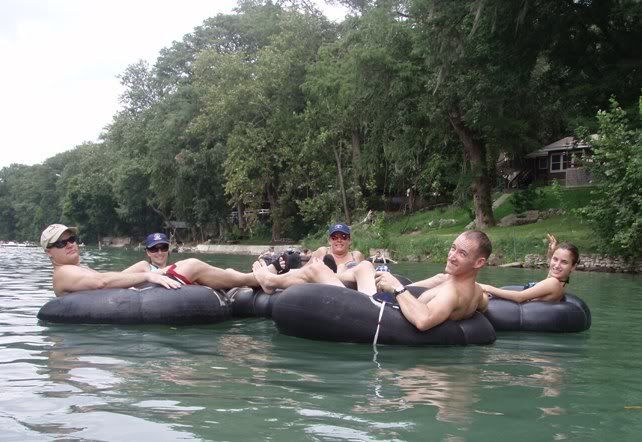 The Gang.



All the peeps behind us.



One of the pretty views along the way.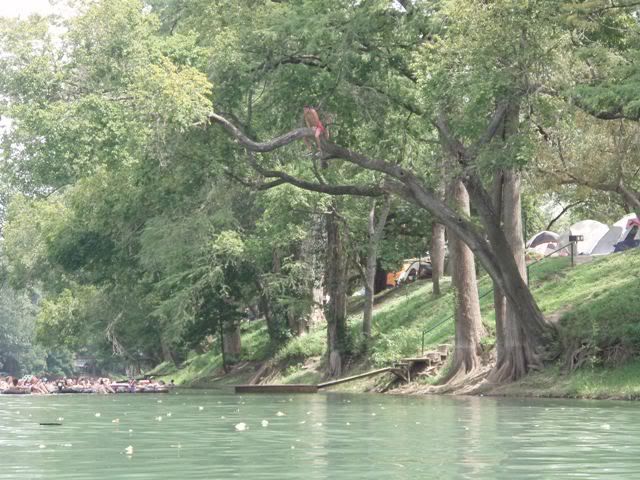 Some guy getting ready to jump out of a tree - not the brightest idea considering how shallow the water is.



On the way down after doing a back flip. I do not think I could have done it even if I did know the water was 20 feet deep!