The Days Before

Friday started early, but I was ready. I carried everything I would need for the marathon with me and packed the rest. I was not chancing the airline losing my shoes and gear!

I arrived in the Windy City and we eventually made our way to Harvey House B&B. We settled in, did some unpacking and then headed for the train into the city and the Expo. I picked up my packet, grabbed lots of freebies then it was off to dinner then back to the B&B for a good nights rest.

The next morning we lazed around and eventually made our way into Oak Park to visit the Frank Lloyd Wright museum and other interesting architecture in the area.



Interesting house



Another interesting house



Look - another one!!



Frank Lloyd Wright house/museum



Frank Lloyd Wright Unity Temple

After that it was time for an early dinner at a local pasta place and then back to the B&B to prepare for the marathon and to hopefully get a decent nights sleep.

Marathon Day

Woke up around 5:15 am and slowly got ready and then headed for the train.



Waiting for the train. Thank goodness the train didn't start running any earlier than 6:30, otherwise my mother would have wanted me on it!!

Well, we made it in plenty of time so I stopped off at a restaurant for a pre-race potty break and then it was off to the start.



Heading to start line.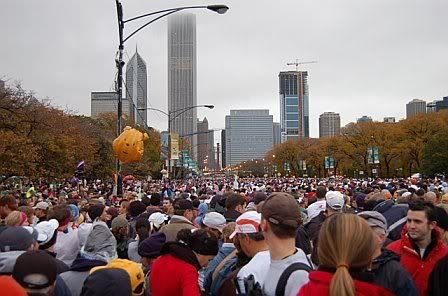 Packing them in - it was amazing the amount of people!!

I said my goodbyes to my mom and Tom, and then I headed in. 10 minutes to go. 5 minutes to go and the wheelchair participants are off. GUN!! And here I go. But beware of where you step - there is clothing and plastic bags EVERYWHERE!! You definitely do not want to trip in that mess!!

9 minutes and a few seconds later I cross the start line and the running begins.

Take it slow, Jill, you do not want to go out too fast.

Look at all those people on the side lines. Listen to all those people.

Wow, there is mile marker 1, and I haven't been doing my walk breaks. Probably because I can't hear my Garmin! I have been going slow, it should be okay. I will just keep going.

There is the mile 2 marker - I am looking for you Mom and Tom. I can't see you - I wonder why?!!



The throng on the run at mile 2

Mile 3 - okay time to start looking for Brenna.

"Jill, Jill"

A quick turn around and I see her!! A quick hug, some photos, a little catching up and then I am on my way again.

Boy, I sure have to pee. There are some port-a-potties with huge lines. I can go a little longer.

Mile 4 goes by and I am still running. Feeling great!! Oh - look - there is TNT Coach Dan! What a welcome face to see!! He ran with me for a couple minutes and then he headed over to 11 to check on the other runners.

Mile 5 goes and I REALLY need to take a potty break. Where are those darn port-a-potties? I see a gas station with a line and make a pit stop. Lots of other people are in need of a pee break, too. And some of them are crazy enough to go stand or squat over in the park. Not me. I have a little dignity!!

Pee break over with and it is back on the road. Less than half a mile later I see the port-a-potties!!

Miles 6, 7, 8 and 9 fly by. I am feeling great. I have only taken a couple breaks - walked some of the water stops, talked with Brenna and stood in-line for like 8 minutes.

Mile 10 goes by and there is my mom and Tom!! Yay!!



Mile 10 and smiling. Hugs, hellos, pictures. I grab a gel then head back on the course.

Miles 11 and 12 float by. Mile 13 - it is Brenna again. And she has dragged David out of bed this time!! More hugs. More pictures. More catching up then back on the course.




Half-Way there!!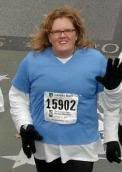 Only 13.1 more to go!

Miles 14 and 15 - starting to finally take my walk breaks. But I think the damage has already been done.

Miles 16, 17, 18 and 19 - getting a little tired. Could it be any more cold! Oh and I have to pee again!! This time I find the port-a-potties right away and the lines are nil! In, out, on the course. And what do I see in front of me? A purple TNT singlet with "Running Jayhawk" printed on the back. Wow!! I run up, tap her on the shoulder and say "Hey, I've read your blog." I tell her my blog name and she says "Yeah, I've read yours, too." Is that not crazy or what? We chatted a bit. She says she has been having a rough day and could really go for some food since she upchucked all her breakfast earlier. Even with the nerves she still kicked some tail and finished in 5:55:28! Way to go!

Mile 20 - 10 K to go! Thank the Lord!! I am beat! And I have to pee again!! What is the deal?!!



Band at 20



Looking rather tired



Potty break number 3



Hydrating

Miles 21, 22, 23, 24 and 25 when is this going to end?! Oh, look - there is Coach Dan again. He comes over and runs with me a little and tells me it is only a little bit further. Just down here about half a mile then a turn and a bridge and then another turn and then the finish.

Mile 26 - this is so WRONG! You do NOT make someone run up a hill the last few hundred meters of a marathon. If you think I am running this - you are CRAZY!! But at least I get to see my personal cheerleaders (Mom and Tom) one more time before I cross the line!



Just a couple hundred more meters



Finish Line - 6:13:41



I finished - next time I will do better

After getting my medal, thermal blanket (what a wonderful thing!), some water, food and my pic taken I headed over to the meetup area to wait for my mom and Tom.



Buckingham fountain - meet-up area

We then headed over to the TNT tent to see if anyone I knew was over there. I saw Bill, Bev, Emily, and Janie. Great folks.



TNT cheerleader

It was then time to go back to the B&B for some relaxation and eventually a nice hot bath. There was no way I was taking an ice bath this time around!!

Day after

I woke up around 2 or 3 am with a wonderful sore throat. I went back to sleep hoping it would go away, but it didn't. I, actually, think I was fighting getting this cold for several days but had told myself there was no way I was getting a cold before the marathon. I guess it worked!!

After getting ready and having a wonderful breakfast at the B&B we headed over to The Field Museum.



Christopher Columbus statue with friend - I just had to laugh at this crow perched on CC's finger. He was having a grand time up there just cawing away.



Field Museum



Sue - most complete T-rex

Even though the walking and stairs were a little painful, I think they really helped in the recovery process.



Riding the train

Final Day and some other pics

The final day in Chicago we drove around the city quite a bit to have a look around and then it was time to head to the airport and home.



Buckingham fountain - clean again. Why couldn't the weather have been like this for the marathon?!



The photographer




Navy Pier



Chicago Skyline



Chicago Library gargoyles