Last week I used some of my Christmas money to buy a new toy I had been wanting for a couple months now. It is a lap counter for the pool.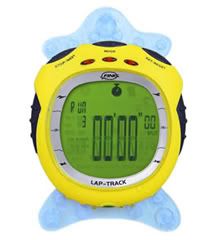 Before, I had used an old watch to keep track but it wasn't the greatest. I had wanted something else and when I saw this mentioned on someone else's blog I thought I would give it a try.
Well, it arrived on Monday and I took it for its first swim last night.
I set it to 30 laps (1,500 meters), set it on the side of the pool and began my workout.
I was a bit apprehensive about my swim because I haven't been in the pool for quite some time. After the first 5 laps I was thinking that 30 laps was a bit ambitious and thought I would stop at 20. Then I finished 10, then 15 and then 20 came around. I thought to myself "What is another 10 laps. You can do it." So I did. And those last 10 laps passed so quickly I was amazed!
I didn't do any special drills. It was all about getting my feet wet again and working on alternate breathing.
After hitting the swim gadget for the last time the lights went off and it started beeping to signify the completion of my workout. I sat there at the end of the pool seeing what the results of my times were and then decided I was going to do at least a mile of swimming – so I reset the lap counter and did 3 more laps!
Most of the time I remembered to hit the thing but sometimes I forgot, so I would hit it twice the next time. I think I can rectify this problem if I use the suction cups and put it in the pool. I will try this on Friday.
It has quite a few features that I like and think it will be helpful.
I can't wait till I can play with it again!
Total distance = 1,650 meters / 1.025 mile